OPERATIONAL MANAGEMENT OF WIND TURBINES IN COMPLIANCE WITH SPECIES PROTECTION
As a wind farm operator, you face countless challenges every day that are both technically complex and logistically demanding. With our specially developed system for the operational management in compliance with species protection of wind energy plants, we take some of this burden off your shoulders: by reducing your workload for monitoring as well as documenting shutdowns that require approval – and at the same time ensuring that your turbines generate optimal yields.
In the meantime, around 90 wind farms with a total of more than 300 turbines are benefiting from the use of Fleximaus. And that criss-crosses the whole of Germany: from Bavaria to Schleswig-Holstein, from Rhineland-Palatinate to Brandenburg.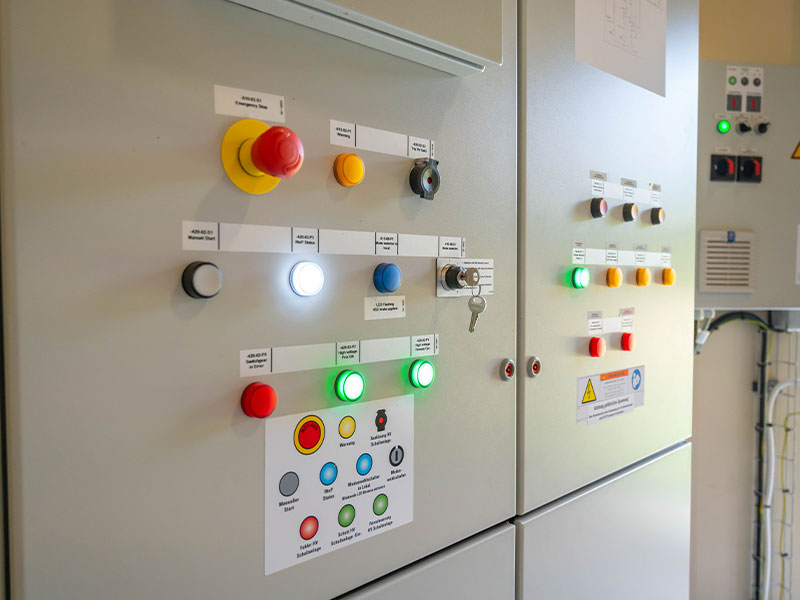 Clever operational management: Fleximaus keeps your options open!
From experience, we know the diverse demands of different wind farm operators. And accordingly, we can also adapt individually to your wishes.
As a technical operations manager, you benefit from an enormous reduction in workload – after all, you no longer have to manually check every day whether your wind turbines were switched off at the right time. Fleximaus does this for you automatically! But our intelligent system can do so much more: for example, check relevant environmental data for plausibility or document all shutdowns and make this historical data available digitally to the responsible authorities.
In the event of a failure of the software, the connection to the wind farm or the sensors, the optimisation system informs our service staff in no time at all – so they are able to initiate measures to rectify the fault as quickly as possible. No matter whether by remote maintenance or on site. If you conclude a favourable maintenance contract with us, you will not only receive regular software updates; we will also take care of the inspection of the hardware or replace it if necessary.

We have developed a digital customer platform to demonstrate how Fleximaus works and to make operational management of wind farms that is compliant with species protection easier for the responsible persons. At my.fleximaus.de we offer you – in parallel to the fixed stop specifications linked to various environmental parameters – the opportunity to specify targeted measures for the short-term shutdown of wind energy plants. In addition, a verification function is available that allows operators and authorities to track the correct implementation of the shutdown requirements. The TR10-compliant documentation rounds off our range of services for the operational management of wind energy plants that is compliant with species protection.
Do you need support in the operational management of wind turbines?
With Fleximaus, you reliably comply with requirements that are relevant to approval and at the same time reduce your effort for operational management.
Comprehensively clever in the wind
Fleximaus GmbH can do more than the operational management of wind energy plants that is compliant with species protection:
Are you planning to build a wind farm? Let us accompany you on your way! We can evaluate requirements that are relevant to approval and show you individual options for optimisation as early as the planning phase.
Are you satisfied with the return on your wind farm? The experts at Fleximaus GmbH help operators, technical managers and project developers to increase the productivity of both existing and new plants.
Would you like to know how various species protection requirements affect the yield of your wind farm? Whether before construction or during operation – we precisely estimate the future operating behaviour of your plants.
Contact Fleximaus GmbH
Are you planning to build a wind energy plant? Or do you already own a wind farm and are dissatisfied with its yield? The experts from Fleximaus GmbH in Schillingsfürst accompany operators, technical managers as well as project developers from the very beginning – from consulting to optimisation. Call, write an e-mail or use the contact form: we look forward to hearing from you!
Fleximaus GmbH
Faulenberg 3 - 91583 Schillingsfürst - Germany
09868/9341765 - info@fleximaus.de
QUICK CONTACT
Simply enter your name and e-mail address and we will get back to you shortly!