WIND POWER & SPECIES PROTECTION: IN THE GREEN FROM THE START
Whether you are still thinking about building a wind energy plant and you need full advice on species protection or you already own several wind farms and are looking for a simple way to increase their productivity – our service is closely geared to your needs. After all, we know from our own experience the challenges that operators, technical managers, project developers or authorities face on a daily basis. And above all, we know how to manage your wind energy plants almost effortlessly in a way that is both compliant with requirements and economical. Our industry experts are happy to pass this knowledge on to you.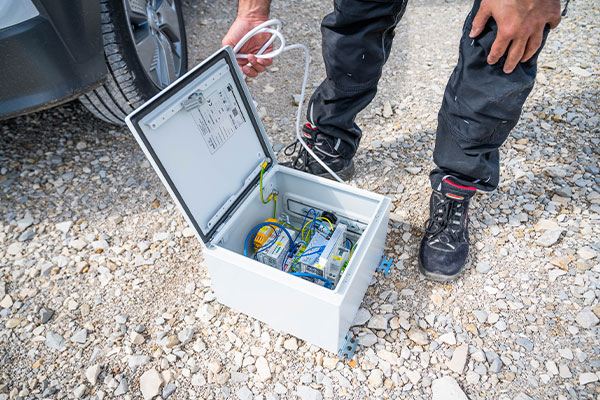 Which shutdowns that are relevant to approval have to be implemented? How do various species protection requirements affect the yield of your plants? Operating a wind farm is a complex matter. Therefore the specialists at Fleximaus GmbH support you right from the start at predictable conditions. As a customer, you are naturally at the centre of our activities. To exceed your expectations, we do our best every day: modern technology, valuable input ... the odd helpful tip. Always with the desire to make your life easier.
All-round carefree: benefit from our maintenance contract!
In order to maintain the excellent efficiency of our software, Fleximaus GmbH regularly provides updates and improvements. If a hardware problem occurs, we replace defective components at zero cost.
Countless challenges, one partner
From the wind turbine to the species protection wind turbine │ This is how the intelligent bat shutdown works:
Fleximaus has already been used in various wind farms since 2015 – this has allowed us to collect and evaluate extensive data. This intensive monitoring allowed us to build up a wealth of experience, from which our clients in turn now benefit: on the one hand, there are both yield-oriented and ecologically minded investors who want to get the most out of their wind energy plant. On the other hand, technical managers want active support to manage several parks in a few simple steps. Last but not least, a project developer could achieve a higher price for his concept if he guarantees optimised fulfilment of shutdowns due to requirements.
Objectively speaking, you get from us:
Detailed requirement checks
Free simulations to optimise your wind farm
Fast support in the event of errors via remote maintenance
Complete documentation for submission to authorities
Continuous updates of the software, replacement of defective hardware
Comprehensive service from an annual fee of € 565
In fact, you get:
The SECURITY that your equipment will stay in good shape for the long term
The JOY of producing more green electricity
The SERENITY of no longer having to worry about everything
The GOOD FEELING of protecting living beings
The PRIDE of having played your part in a species-friendly energy transition
Are you satisfied with the yield of your wind farm?
Find out which energy potentials are also slumbering in your plants!
Comprehensively clever in the wind:
No matter which project phase you are in – our experts will help you achieve your goals.
Are you planning to build a wind farm? Let us accompany you on your way! We can evaluate requirements that are relevant to approval and show you individual options for optimisation as early as the planning phase
As a wind farm operator, you face countless challenges every day. With our specially developed system for operational management in compliance with species protection, we take some of this burden off your shoulders.
Are you satisfied with the return on your wind farm? The experts at Fleximaus GmbH help operators, technical managers and project developers to increase the productivity of both existing and new plants.
Would you like to know how various species protection requirements affect the yield of your wind farm? Whether before construction or during operation – we precisely estimate the future operating behaviour of your plants.
Contact Fleximaus GmbH
Are you planning to build a wind energy plant? Or do you already own a wind farm and are dissatisfied with its yield? The experts from Fleximaus GmbH in Schillingsfürst accompany operators, technical managers as well as project developers from the very beginning – from consulting to optimisation. Call, write an e-mail or use the contact form: we look forward to hearing from you!
Fleximaus GmbH
Faulenberg 3 - 91583 Schillingsfürst - Germany
09868/9341765 - info@fleximaus.de
QUICK CONTACT
Simply enter your name and e-mail address and we will get back to you shortly!