Shadow shutdown: Shadowing at the wind turbine
Dark, light, dark, light, dark: especially on sunny days, the operation of wind energy plants can cause disturbing cast shadows.
In order to protect nearby residents from this stress-inducing situation, every wind farm must undergo a special shadowing analysis before construction.
This includes the determination of potential shadowing: if mandatory shading times are exceeded, the running time of the rotors will be limited during the times in question. And it is precisely this shadow shutdown of wind energy plants that Fleximaus does for you automatically.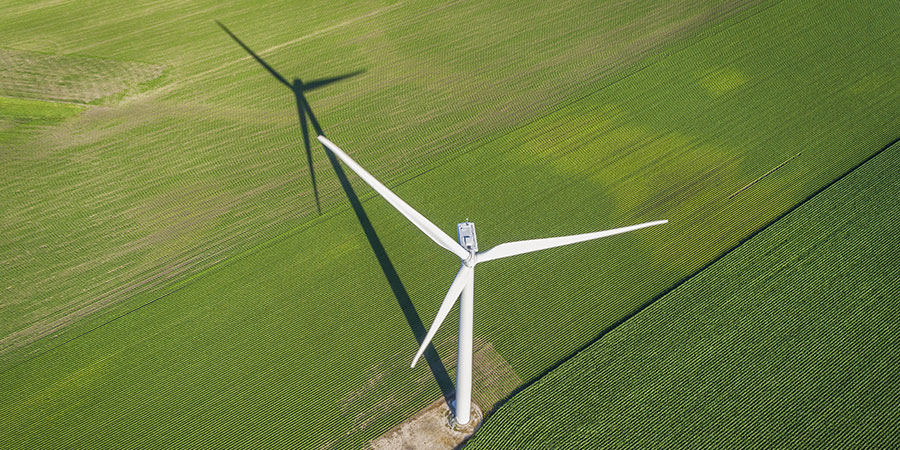 Plannable and transparent costs
Enormous increase in yield
Clear reduction in workload
Absolute legal certainty
Determination of a shutdown concept for your wind farm
Individual shadow shutdown for different wind energy plants
In order to obtain permission to build a wind farm, you need an expert opinion that describes which plant is to be shut down on which day at what time of day. The shutdown times result from the affected immission points (IP), which must be precisely measured and checked. An immission point can be a house wall with windows, a balcony or a garden of a building that is at least temporarily inhabited.
Following the determination of the locations, types and heights of the plants as well as the exact measurement of the IP, the actual shading periods adapted to the terrain can be determined. You will receive a concept from our experts that is individually tailored to your wind farm – this regulates which wind energy plants require a shadow shutdown and also includes an exact shutdown calendar for each wind turbine.
You would like to integrate our bat shutdown into your wind farm?
This is how our intelligent shadow shutdown works:
Once the period of possible shading has been reached, Fleximaus uses sensors to determine the current solar radiation on the ground and sends a command to the central server in the wind farm once the freely definable brightness values have been exceeded (from 10,000 lux when the sky is overcast to around 150,000 lux when the sky is clear at midday) – the corresponding rotors are stopped. This check is carried out every minute so that no shutdown occurs too late and / or no unnecessary downtimes occur. The sensor reduces shutdown times because no shadows are cast by the wind energy plant when solar radiation is low.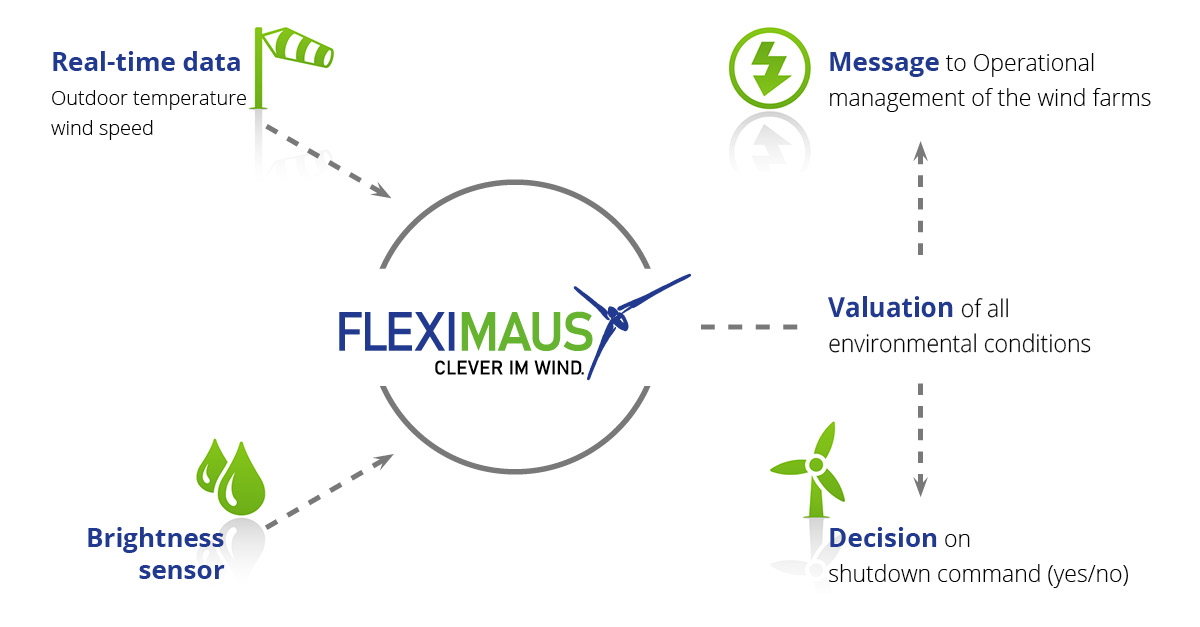 Are you satisfied with the return on your wind farm?
Find out which energy potentials are also slumbering in your plants!
What distinguishes Fleximaus from other systems?
Flexibility
Our manufacturer-independent system is used in both new buildings and existing plants. In addition, specifications for the bat shutdown can be individually configured and adapted at any time.
Intelligence
By applying our intelligent algorithm, you realise maximum operating times. This implements, among other things, the night decimalisation as well as the patented parking speed.
Speed
Our optimisation system is able to collect and process numerous environmental data at lightning speed (every minute or ten minutes) and to integrate data from real-time acquisition systems such as cameras into the shutdowns.
Reliability
We constantly test the functionality of Fleximaus: technical faults are reported to our team immediately, so that we are able to rectify almost any fault as quickly as possible via remote monitoring.
Legal certainty
Fleximaus guarantees legally compliant fulfilment of all requirements of the approval notice. In this way, no bans are imposed due to missing or incorrect bat shutdowns.
Precision
The day-precise observation of sunset and sunrise reduces the viewing time by additional hours per month. In addition, the plausibility of the environmental data is checked.
Accuracy of fit
All Fleximaus environmental sensors are selected according to their readiness for use and form the basis for optimal site-specific species protection.
Openness
Both external environmental sensors already present in the wind farm and recording systems that will only be approved in the future can be integrated into the Fleximaus interface.
Quality
We work with high-quality industrial components and have designed our specially developed software modules so that they can also be used on future hardware.
Transparency
Our system documents environmental data – so you can track bat shutdowns at any time with the help of clear representations as well as prove them to the authorities.
Cost recovery
Due to the increase in efficiency associated with Fleximaus, the expenses for a retrofit – depending on the size of the wind farm – pay for themselves within a few months.
Still unsure?
Find out which energy potentials are also slumbering in your plants!
Optional sensors for shadow shutdown
Brightness detector
To determine the shadowing, the brightness [lux] in the wind farm must be detected. This allows us to achieve further operating times when the sun is not shining and no shadows can be cast by the wind energy plant.
We want your wind turbines to turn as often as possible – even during hardware maintenance. That is why our experts install all the sensors on a bracket specially designed and manufactured for Fleximaus, either at the base of the tower or on a building in the wind farm.
Guaranteed trustworthy.
Our system can be retrofitted to many well-known manufacturers. This means for you: The warranty remains intact.
Vestas
Vensys
eno energy
Nordex
Enercon
Leitwind
GE Renewable Energy
Senvion
Comprehensively clever in the wind:
Operation of wind turbines in compliance with species protection
We take over the following shutdowns of wind turbines, that are relevant to approval, in their entirety for you:
Our "custom-programmed" software modules make it possible!
Clever Fleximaus adapts to the individual conditions of your new or existing wind farm and ensures reliable, economical as well as legally compliant operation because it is bat-friendly.
Our smart system reliably takes care of the implementation of bird protection requirements that are relevant to approval: complex specifications are implemented automatically, event-dependent stops can be activated very easily.
Contact Fleximaus GmbH
Are you planning to build a wind energy plant? Or do you already own a wind farm and are dissatisfied with its yield? The experts from Fleximaus GmbH in Schillingsfürst accompany operators, technical managers as well as project developers from the very beginning – from consulting to optimisation. Call, write an e-mail or use the contact form: we look forward to hearing from you!
Fleximaus GmbH
Faulenberg 3 - 91583 Schillingsfürst - Germany
09868/9341765 - info@fleximaus.de
QUICK CONTACT
Simply enter your name and e-mail address and we will get back to you shortly!