ECONOMIC BIRD PROTECTION AT WIND TURBINES
Wind farms must not be built near inhabited areas – that is why they are often built at sites that are regularly frequented by birds.
Hunting birds of prey cannot avoid the wind turbines in rare cases – because the wing tips of the rotors move at up to 300 km/h and the animals focus on the ground while hunting.
The low number of victims includes common species such as the wood pigeon, the buzzard or the starling – but also strictly protected species such as the red kite.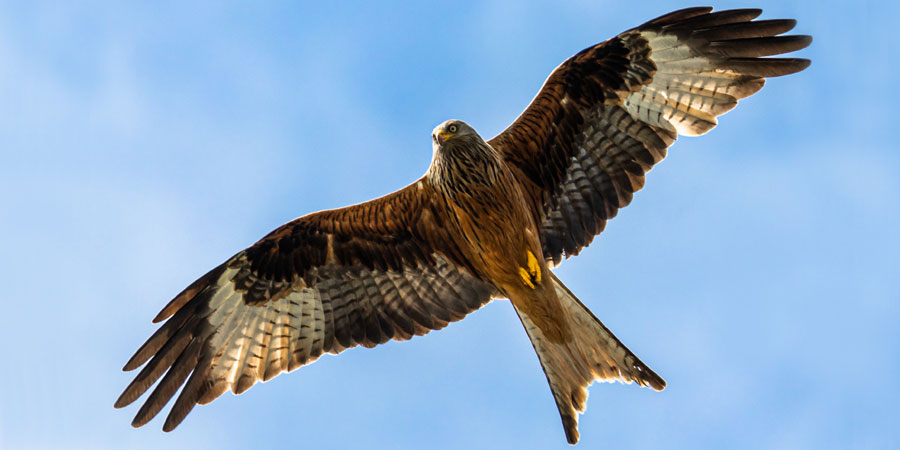 For this reason, extensive expert reports are prepared and submitted to the authorities before a wind energy plant is operated. These assessments show, among other things, how the operator can implement effective bird protection at the wind turbine or whether bird protection is necessary at all. On the safe side with Fleximaus: our intelligent system takes over the reliable implementation of shutdowns that are relevant to approval for you.
Elaborate specifications with many environmental parameters are implemented automatically
Specifications with energy quotas can be parameterised on the system side in the wind farm or on a plant-specific basis
Event-dependent stops (the so-called mowing shutdown) can be activated very easily and implemented automatically
Interfaces to bird detection systems are available to any manufacturer and can be integrated and monitored in your wind farm at any time
Plannable and transparent costs
Comprehensive documentation
Clear reduction in workload
Absolute legal certainty
Simple operation
No supervision effort
Complete function monitoring
Wind turbines and bird protection? Fleximaus – the clever conflict resolution!
Our smart system solves the conflict between wind energy and bird protection by reconciling economy and ecology. For effective bird protection at wind turbines, Fleximaus offers different operating modes: these can either be rigidly programmed annually or flexibly adapted via our website to the field processing in the wind farm. This gives operators and managers the chance to meet the individual conditions in the park as well as to fulfil the requirements of the building permit.
Our Fleximaus is the first system to offer the possibility of linking blanket shutdown times for bird protection with environmental parameters – an important step on the way to a nature-friendly energy transition.
You would like to integrate our shutdown for bird protection into your wind farm?
From the wind energy plant to the species protection wind turbine │ This is how modern bird protection at wind turbines works today:
The mowing shutdown is one of the best-known methods for bird protection at wind turbines. This can be activated with a few clicks thanks to our website and is fully monitored with our function monitoring. This saves operators, managers and manufacturers unnecessary telephone calls as well as time-consuming checks. The hunting birds in the wind farm may hunt for food during and for a certain time after field management. When the hunting probability decreases again, the systems are automatically put back into operation.
But our system can do much more: Fleximaus determines the current environmental conditions in the wind farm (including wind speed, outdoor temperature, precipitation or degree of coverage) and compares these with probable hunting conditions and flight times of native birds for the respective location. This is based on studies carried out in advance by experts at the locations of the wind energy plants or at neighbouring plants. During periods of presumably high activity, the algorithm switches off your wind energy plants to protect the animals – and then switches them on again.
As soon as cameras are approved for the detection of birds, we also offer an implementation as well as documentation interface between various wind turbine manufacturers and the camera systems. If you opt for Fleximaus, you benefit from a species protection system with unlimited expansion possibilities. No matter whether via internal or external sensors – our system reliably checks all collected parameters.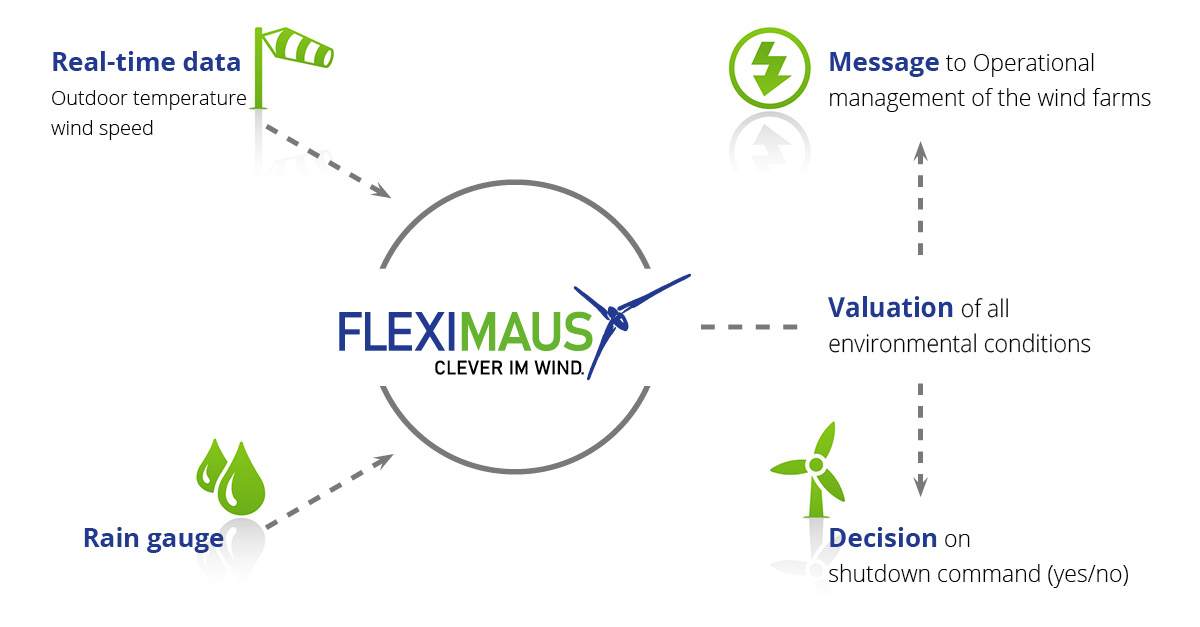 Of course, our optimisation system always keeps you up to date: wind farm operators can track the prevailing environmental conditions at the wind turbine as well as any shutdowns carried out at any time on different end devices.
Are you satisfied with the return on your wind farm?
Find out which energy potentials are also slumbering in your plants!
What distinguishes Fleximaus from other systems?
Flexibility
Our manufacturer-independent system is used in both new buildings and existing plants. In addition, specifications for the bat shutdown can be individually configured and adapted at any time.
Intelligence
By applying our intelligent algorithm, you realise maximum operating times. This implements, among other things, the night decimalisation as well as the patented parking speed.
Speed
Our optimisation system is able to collect and process numerous environmental data at lightning speed (every minute or ten minutes) and to integrate data from real-time acquisition systems such as cameras into the shutdowns.
Reliability
We constantly test the functionality of Fleximaus: technical faults are reported to our team immediately, so that we are able to rectify almost any fault as quickly as possible via remote monitoring.
Legal certainty
Fleximaus guarantees legally compliant fulfilment of all requirements of the approval notice. In this way, no bans are imposed due to missing or incorrect bat shutdowns.
Precision
The day-precise observation of sunset and sunrise reduces the viewing time by additional hours per month. In addition, the plausibility of the environmental data is checked.
Accuracy of fit
All Fleximaus environmental sensors are selected according to their readiness for use and form the basis for optimal site-specific species protection.
Openness
Both external environmental sensors already present in the wind farm and recording systems that will only be approved in the future can be integrated into the Fleximaus interface.
Quality
We work with high-quality industrial components and have designed our specially developed software modules so that they can also be used on future hardware.
Transparency
Our system documents environmental data – so you can track bat shutdowns at any time with the help of clear representations as well as prove them to the authorities.
Cost recovery
Due to the increase in efficiency associated with Fleximaus, the expenses for a retrofit – depending on the size of the wind farm – pay for themselves within a few months.
Still unsure?
Find out which energy potentials are also slumbering in your plants!
Optional extensions for bird protection at the wind turbine
Red kite protection
Fleximaus offers effective red kite protection, for example during the breeding season or the annual bird migration.
Automatic conversion after activation
Shutdown period can be flexibly specified annually
Smart access via customer centre
Complete documentation (including reporting to authorities)
Linking with further environmental parameters possible
Crane protection
Our intelligent software prevents cranes from being hit by rotor blades during migration.
Automatic conversion after activation
Activation at any time of the day or night via the customer centre
Linking with further environmental parameters possible
Complete documentation (including reporting to authorities)
Mowing shutdown
To protect hunting birds, the mowing shutdown stops affected wind turbines following a field cultivation.
Automatic conversion after activation
Shutdown period after field processing is permanently programmed for each wind energy plant
Adaptation of the daily viewing time to site-specific requirements
Pre-planning configuration for upcoming field work can be implemented
Error prevention through the assignment of parcel to wind turbine. In this way, the manager can set the field cultivation on the parcel and Fleximaus automatically stops the corresponding plant.
Complete documentation as well as automated communication: farmers can be informed about the shutdown period of the plants, technical managers about shutdowns that have been set up and authorities about the exact implementation of the mowing shutdown.
NEW since 2021:
Parcel-dependent mowing shutdown
To avoid the confusion of wind turbines in your parks, we give the respective responsible persons the possibility to link the automated mowing shutdown to a parcel number or field name. In this way, all affected plants are automatically stopped if field cultivation has taken place on a particular parcel. The activation is done smartly via our website.
Osnabrück model
The Osnabrück model is a procedure for assessing compensatory measures. The automated implementation of the model is possible with the help of Fleximaus and can be installed or retrofitted in your wind farm.
Degree of coverage
Fleximaus offers two options for recording the degree of coverage in the wind farm and using it for bird protection. Let our experts advise you personally!
Many well-known manufacturers already trust Fleximaus.
This means for you:
the guarantee remains intact.
Vestas
Nordex
Vensys
eno energy
Senvion
Enercon
GE Renewable Energy
Leitwind
Comprehensively clever in the wind:
Operation of wind turbines in compliance with species protection
We take over the following shutdowns of wind turbines, that are relevant to approval, in their entirety for you:
Our "custom-programmed" software modules make it possible!
Clever Fleximaus adapts to the individual conditions of your new or existing wind farm and ensures reliable, economical as well as legally compliant operation because it is bat-friendly.
If mandatory shading times are exceeded, operators must limit the running time of their rotors. Fleximaus automatically takes care of this shadow shutdown of wind energy plants for you.
Contact Fleximaus GmbH
Are you planning to build a wind energy plant? Or do you already own a wind farm and are dissatisfied with its yield? The experts from Fleximaus GmbH in Schillingsfürst accompany operators, technical managers as well as project developers from the very beginning – from consulting to optimisation. Call, write an e-mail or use the contact form: we look forward to hearing from you!
Fleximaus GmbH
Faulenberg 3 - 91583 Schillingsfürst - Germany
09868/9341765 - info@fleximaus.de
QUICK CONTACT
Simply enter your name and e-mail address and we will get back to you shortly!